Filter by Category
Improvised Shakespeare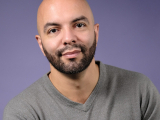 Improvised SHAKESPEARE
with Khalil LeSaldo

Oct 11, 2023 at 7 pm

, runs for 8 weeks
Improvised Shakespeare

Hark,ye! Cast thine eyes upon the wondrous spectacle of our Improvised Shakespeare Class, tailor-made for those who yearn for the Bard's embrace. Verily, in this mirthful pursuit, ye shall find:
Mastery of the Bard's Tongue: Prepare to unlock the secrets of speaking in Shakespeare's eloquent and lyrical language. Thou shalt wander through the poetic labyrinth of his words, phrases, and utterances, emerging with a newfound skill to dazzle thy comrades with thy linguistic panache.
Spontaneous Storytelling: In this merry endeavor, thou shalt boldly embrace the thrill of impromptu storytelling. Create intricate and fanciful tales on the spur of the moment, weaving characters, plots, and drama with a flourish.
Summon forth thine inner actor:  From noble heroes to cunning rogues, thou shalt explore a cavalcade of roles, performing scenes with gusto. Prepare to be both amused and transformed as thou delv'st into the fine art of dramatic interpretation.
Meets once a week for eight weeks.
Prerequisites: PHIT 201 or permission of the Education Director
Adults 18+
Please note ALL SALES FINAL. NO REFUNDS. NO CREDITS.  PLEASE CONSIDER YOUR SCHEDULE CAREFULLY BEFORE REGISTERING.
Day: Wednesday
Dates: 10/11, 10/18, 10/25, 11/1, 11/8, 11/15, 11/29, 12/6
NO CLASS 11/22/2023
Time: 7:00-9:00 PM
Make-up/Snow Date: 12/13/2023
Showcase Date/Time: 12/17 2:30 p.m.
Class Room: Smith
Theater Location: Hamilton Family Arts Center 62 N 2nd St, Philadelphia, PA 19106
About the Instructor:
Khalil LeSaldo acts, writes, directs, and teaches. Recent favorite credits include many characters in Mlima's Tale at Burning Coal Theatre, and a lively production of The Play That Goes Wrong. He also performs solo shows of his own creation. B.A. Bowdoin College. M.F.A. UNC Chapel Hill.
What others say:
"Dynamic and engaging"
"Makes it easy"
"Khalil is great!! He is a kind, supportive, and knowledgeable instructor."
"Khalil is wonderful, warm, attentive and supportive. He is very encouraging to the group."