Filter by Category
Short Form Improv: Foundations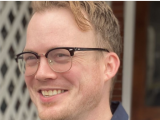 Short Form 1: Foundations
with Nick Elmer

Jan 11, 2024 at 7 pm

, runs for 8 weeks
Short Form Improv: Foundations
Welcome to Short Form Foundations. Get ready to dive headfirst into the world of laughter and spontaneity in this eight-week improv course. We'll take you from rookie to improv superstar as we explore creative short form improv games and exercises that'll keep you on your toes and rolling on the floor laughing. From "Zip Zap Zop" to "Party Quirks," you'll be stitching together scenes, creating unique characters, and having fun with your newfound improv friends. This class is best for those with level one improv expereince. Join us, and let's turn ordinary Thursdays into extraordinary comedy!
Meets once a week for eight weeks.
Prerequisites: Improv 101 from PHIT or other established Improv school. Please inquire with the Education Director if you are at all uncertain.
Adults 18+
Please note ALL SALES FINAL. NO REFUNDS. NO CREDITS.  PLEASE CONSIDER YOUR SCHEDULE CAREFULLY BEFORE REGISTERING.
Day: Thursday
Dates: 1/11, 1/18, 1/25, 2/1, 2/8, 2/15, 2/22, 2/29
Time: 7:00-9:00 PM
Make-up/Snow Date: 3/7/2024
Showcase Date/Time: TBD
Class Room:  Smith (this is an accessible location)
Theater Location:Hamilton Family Arts Center 62 N 2nd St, Philadelphia, PA 19106
About Your Instructor:
Nick has performed improv comedy in Philadelphia for nine years and can currently be seen with The N-Crowd, No Diggity, Breeders, and the indie team Sizzler Hour. Besides teaching at PHIT and The Lab, he has years of experience coaching and directing improv projects including the newest PHIT Harold team Main Dog! More than anything, he is excited to help new improvisors find what they are great at and fall in love with the art form of improv comedy!
What others say:
"Nick was fantastic and a ton of fun!"
"Nick is great. He is relaxed, and he explains concepts and exercises in an easily digestible way. His astute feedback was instrumental in helping me tweak my short comings while trying to grasp the information throughout the last 8 weeks. What I also really appreciate is that Nick used feedback to praise our work in class (and in the showcase!), which is a HUGE confidence booster when you're in the hotspot. "
Payment plan available: $175 deposit plus 2 payments of $102.00, paid every two weeks.